Availability
For availability please check here.
Prices
For prices please check here.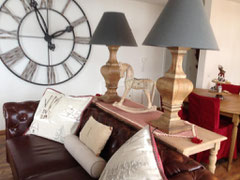 Description of holiday apartment
This two bedroom holiday apartment (80m2) which has been refurbished and refurnished in December 2013 with lots of love and enthusiasm, is located on the risen ground floor and is one of 3 apartments of the chalet Juwel.
The chalet Juwel is situated only 5 walking minutes from the centre and the mountain lifts of Adelboden. The apartment can be rented by the week, on short notice by days and offers comfortable accommodation for 2-4 people.
The balcony and terrace, both furnished with chairs, tables and long chairs, offer a marvellous view of the mountains of Adelboden.
There is a parking space available in two walking minutes distance. 
The carefully furnished open plan living and dining area offers a friendly and welcoming atmosphere. The kitchen comes with modern new appliances. 
There are two bedrooms (one with a sink) with a double bed each. The mattresses are high quality and there are Nordic duvets. Further, there is a shower toilet room, which has been refurbished in 2011. The whole apartment has under floor heating.
Bedding, bathroom and kitchen towels are available on request.
Cable-TV, radio, phone, wireless internet connection are included and contribute to a cosy and resting holiday experience.  
The whole apartment is non-smoking. Pets are allowed, please do inform beforehand.
The apartment can be rented from Saturday 2.30pm to 10am on leaving day. 

Fittings
General:
- 2-bedroom holiday apartment (80m2)
- 2 bedrooms (one with sink)
- Generously sized living-dining room
- Balcony/Terrace
- Shower/toilet
- Parking space
- Ski room
- Phone
- Wireless
- Cable-TV/Radio
- Under floor heating
- No carpets
Kitchen (refurbished December 2013):
- Fridge
- Dish washer
- Microwave
- Oven
- Ceramic hob
- Steam vent
- Nespresso coffee machine
- Filter coffee machine
- Fondue- and Raclette-Set
- Meat fondue-Set
- Toaster
- Mixer